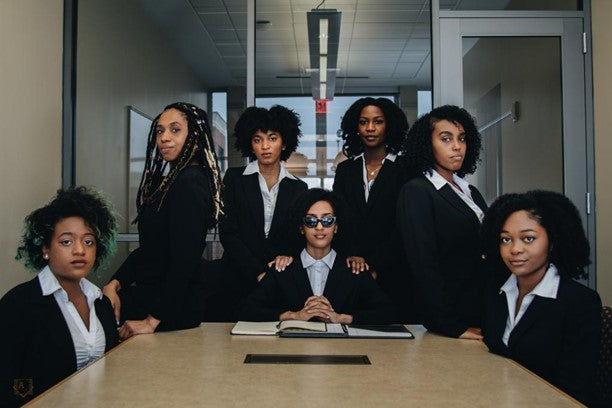 Business Natural - Embracing Natural Hair in the Workplace
Black women reported they are 80% more likely to change their natural hair to meet social norms or expectations at work.
Business Natural is a movement started by Naomi Samuel and captured by 
the sensational Anania Tadesse (Instagram: kingofthefall_._) to push to reframe this narrative and empower women to embrace their natural in ALL contexts. Natural hair is not just professional, but elegant and powerful. 
"I want to create images that don't exist in the mainstream," Naomi said. "I wanted to depict the experience of the Black professional/academic who wears her afro-textured hair in these environments…the women who do this in style. Professionalism wasn't the bar. Authentic style and swagger—powerful suits, powerful poses. Authenticity. It was about norming that for Black professionals." 
Samuel's project is a collection of stories and captured moments of phenomenal black women that defied the Eurocentric beauty standards and anti-Black aspects of professionalism, ultimately displayed museum-style in the Cox School of Business. 
"We can be professional with our hair natural as it is. It doesn't have to fit the status quo, or the standard, or the European model," Simmons, one of the models said. "For us to show up with our hair natural and with our hair out, it's still as professional, It's still as accepted, and we're still meant to be taken as seriously as our other counterparts."
Scroll to learn the stories of the phenomenal women that started this movement. 
Naomi Samuel
3c, Business Natural Director, Marketing BBA & English BA SMU '19, UTA First Year PhD Student     
"I remember sitting in the front row of a business school classroom wearing cornrows. I was the only Black woman there, and I felt like my scalp was totally exposed for everyone to see. It took a kind of vulnerability from me that I'd never had the confidence to exercise before. But after I did that, I knew I could take it further."
Myca Williamson
"…I realized the higher up I got in life, the less people looked like me. So now, as a 25-year-old MBA student reflecting on my journey thus far, I realize that rifts and misunderstandings happen over time. Some don't understand enough about Black people because they have not rubbed shoulders, shared enough meals, or had real conversations with Black people to know and love and accept our culture, which includes our hair."
Tori Gillum
"As a black woman in a professional and academic world that is largely occupied by white people, I consistently feel like the black sheep. Yes, my hair automatically causes me to stand out, but accompanied with my hair, is a different way of life, a different thought process all together. And I feel that difference every day."
Lydia Samuel
3b, Pre-Nursing Student, Baylor '23
"…Overcoming the fear of being different, and inspiring others like me to do the same, has made me feel free.
My curls form a crown, in my mind. One that I wear with pride, shrinkage, tangles, and all. The world needs to
realize that black women are not pretty in spite of their blackness. We are beautiful because of it."
N'dea Fleming
4b, Financial Consulting, SMU '19, MSA, SMU '20
"On my first day of an internship at a Big 4, I was panicked because I didn't know how well received wearing natural hair would be…I wrestled in the weeks prior with the idea of straightening it even though I've never straightened my natural hair. I will never forget when a partner walked on stage to speak to us at training and it was a black woman with a lovely natural bun! Seeing someone at such a high level embracing her authentic self put me in the mindset that no one could tell me anything about wearing my hair the way it naturally grows."
Kennedy Woodard
4a/4b, Mechanical Engineering & Mathematics, SMU '20
"Being a black woman in professional and academic worlds that are primarily occupied by white people (especially in engineering), sometimes makes me feel like I am constantly teaching others about who I am…it forces me to be confident in myself, because I am in these spaces despite all of the forces working against me. Therefore, accomplishing something feels like ten accomplishments in one."
Nia Kamau
4b, Human Rights & International Studies, SMU '22
"My favorite moments about my natural hair journey will always be the ones where I'm doing hair with my mother and sisters. Sometimes we'll spend hours braiding or twisting each other's hair. I love how these experiences connect us. We always have our most serious and heartfelt conversations as we serve and love on each other by taking time to make one another feel beautiful. Doing a loved one's hair has been a bonding experience for black women for generations and I love seeing that legacy passed on with my family."
Ashley Isles
4c, Software Developer, SMU '17
"Sometimes I feel invisible and other times I feel like I have a spotlight on me, following my every move. I work as a developer at a tech company so the number of black women in my department is alarmingly small. It's easy for me to want to disappear, but there's this nagging sense of responsibility to make myself seen and known—to show everyone that I am what a software developer looks like."