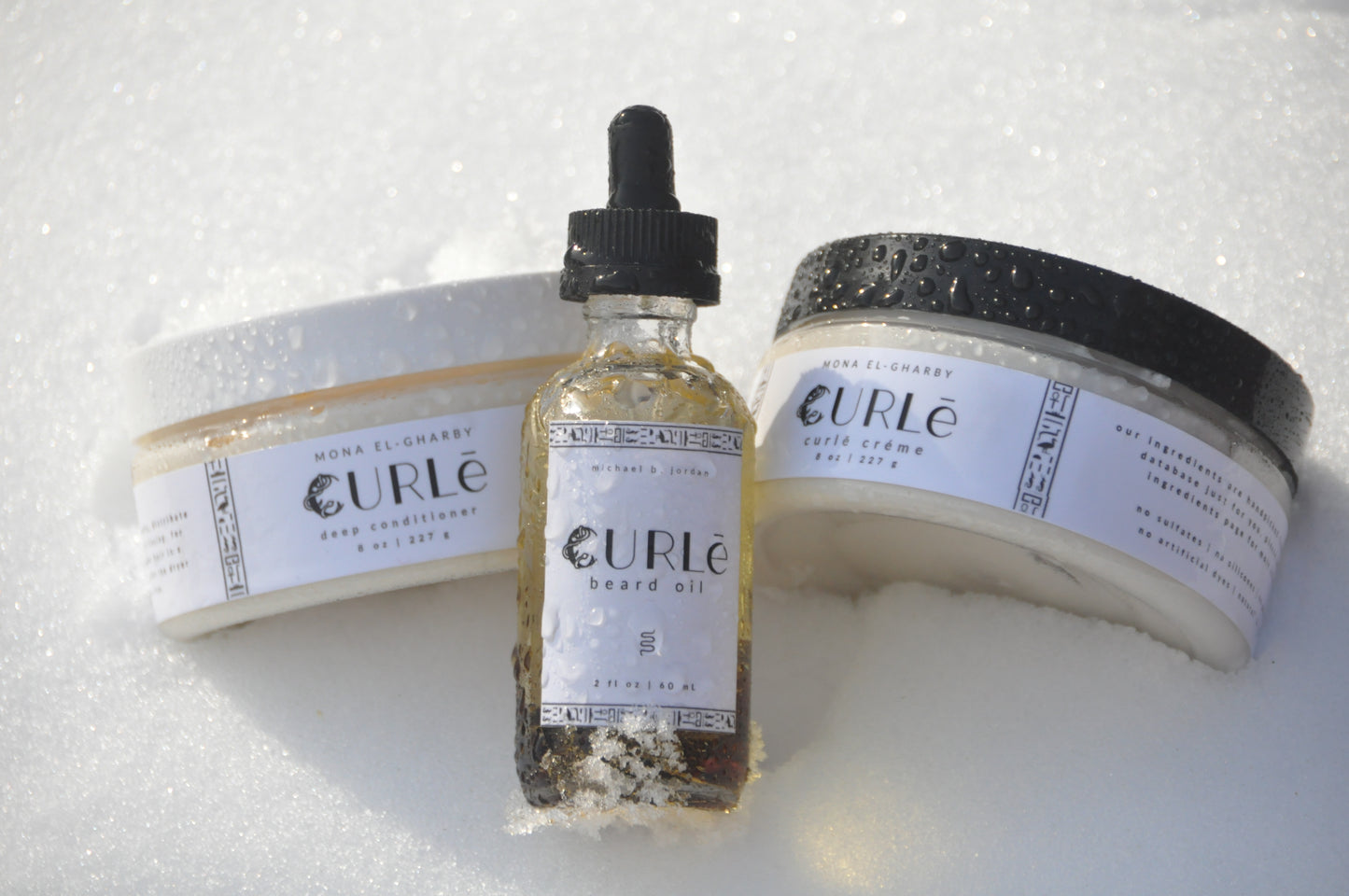 Fight Frizz Like a Pro with 4 Key Ingredients
Fight Frizz Like a Pro with 4 Key Ingredients
During the hot summer months, it can always feel like frizz is lurking just around the corner! 
As summer showers and rising temps saturate the forecast, frizz forms as dry strands take in a higher quantity of moisture. While it can be tempting to revive your wilted curls with heavy oils and gels, doing so sacrifices the essential volume that keeps your curls bouncy and shining. 
The main dilemma - Keeping your curls frizz-free but not weighed down with heavy silicones and artificial additives. Here at CURLe, our expert formulators know that the best products for fighting frizz and defining your curls come from nature! That's why all of our ingredient-driven products are 100% silicone, paraben, and sulfate-free.

ARGAN OIL 
Our #1 ingredient for fighting frizz is Argan Oil!
Extracted from Argan tree kernels, this oil is one most precious and rare ingredients found in nature. This lightweight product is a favorite addition to
so
many beauty products because it adds amazing shine, hydration, and definition without weighing down your curls. This "liquid gold" ingredient has been found to contain important, naturally occurring compounds like squalene, polyphenols, and tocopherols. Studies have also found argan oil to promote skin "
elasticity and hydration by restoring the barrier function and maintaining the water-holding capacity" (
International Journal of Molecular Sciences
). Sealing moisture into your curls and skin, argan oil is a serious game-changer for your scalp and hair health. 
Rich in vitamin E and antioxidants, our signature hand-blended
hair oil
features high-quality Argan Oil straight from Morocco to tackle frizz, restore elasticity, and promote scalp health. 
MANGO SEED BUTTER
We love this natural moisturizer and frizz-fighter!
Mango Butter is a nutrient-rich fat derived from the seeds of mango pits that is full of fiber, vitamins (C, B6, A, & E), minerals, and amino acids. Restorative amino acids, partnered with antioxidants, aid in repairing split ends and protecting strands from environmental stressors like UV rays, which lead to dryness and frizzy curls. Even sweeter is its ability to boost shine, pack intense hydration, and banish dry, flakey scalps. 
We incorporate high-quality mango seed butter, sourced from India, into our ultra-hydrating
Deep Conditioner
and
Whipped Curl Creme
to deliver maximum hydration formulas to your specific curl pattern! 
FLAXSEED GEL 
Kiss fly-aways goodbye without the damage or heavy cast of store-bought gel!
More lightweight than a traditional formulation, flaxseed combines rich Omega-3 acids and vitamin E with its unique light-hold texture to activate and define curls. Working a flaxseed gel into your routine before diffusing or air-drying is a CURLē approved way to follow up a deep condition and maximize results! For even more definition use our Whipped Curl Creme followed by a flaxseed gel for a lightweight and pillow-soft look. 

 

 For the purest gel, skip the shelves and whip up a batch with ingredients you might have in your pantry. Boil flaxseeds in water for 10 minutes, let cool for 45 minutes, strain, and enjoy! (store in the refrigerator). 
JOJOBA OIL
Jojoba Oil is another amazing ingredient for locking in moisture and beating back frizz! 
Derived from the
Simmondsia
plant, jojoba "oil" is actually characterized as liquid wax. This composition makes it ideal for locking in moisture and preventing the dry, brittle strands that cause frizz and breakage. Its strengthening properties also act as a solid addition to your heat defense line-up to prevent damage and dryness from harsh blow dryers, straighteners, and curlers.