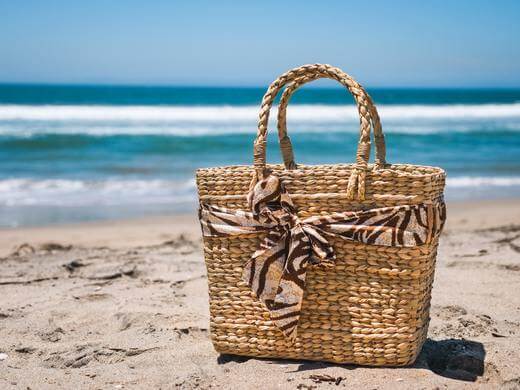 Summer Curl Care: Four Essentials to Beat the Heat
As temperatures rise it's more important than ever to protect and preserve your stunning curls! From the beach to pool, catch the four essentials we never leave home without during the summer season.
 4 Curly Essentials for your Beach & Pool Tote


Beat the Heat - Slather on that Deep Conditioner 
Curly strands tend to be parched year-round, but as temperatures rise, it's important to give your curls and scalp extra hydration. Keeping dryness and tangles at bay is a must, and investing in a high-quality
deep conditioner
is key to minimizing breakage and frizz when your hair is most prone to damage. If you're spending some extra time soaking up the sun (we don't blame you!), aim for a deep condition 1-2 times a week. After cleansing, slather on your favorite deep conditioner from roots to tips, focusing on the drier mids to ends. Leave on for 20-30 minutes and rinse with cool water. 
Bonus Points: follow with 4-6 drops of
botanical oil
to boost shine. 

Pro Tip: We love to apply our CURLē deep conditioner before heading outdoors to let the natural sunshine heat up the product for maximum absorption and nourishment while we wait! 
Cut Down on Chlorine - Pre-Swim Spray Bottle 

We love a refreshing dip in the pool but chlorine, a cleansing chemical added to most pools, strips curls of moisture, leaving your mids frizzy and your ends split. Because curls are more porous than other hair types, they are more likely to absorb the chemicals found in chlorine and saltwater pools. A great way to protect your curl pattern is to wet your hair - either with a quick shower or spray bottle - before diving in. Giving your curls a much-needed drink pre-swim allows the strand to saturate with pure water, leaving less room for harmful chlorine absorption.

Pro-tip: Add a few pumps of your favorite leave-in conditioner to your spray bottle to lock in an extra shot of moisture pre and post-plunge. 
Cover-Up - Scarves and Sun Hats 

If you're planning on spending 3+ hours outdoors, it's always a good idea to protect your curls and scalp from UVA and UVB damage with a colorful silk scarf or your favorite baseball cap. Silk scarves are our favorite because they shield curls from harsh rays and preserve your most recent style at the same time! Silk is the best material for curly hair because it reduces friction, preventing frizz and breakage. We also love how chic and versatile silk scarves are - there are endless ways to style them for any occasion, from a weekend hike to an outdoor brunch with friends! Try folding yours into a bandana to shield the crown of your head or a twisted headband to cover your part.  

Pro-Tip: Don't forget a few bobby pins to secure your scarf when the breeze picks up!
Keep it Clean - Clarifying Shampoo 
Hotter temps mean more sweat and product buildup at the roots of the hair. While it might be tempting to skip shampoo to hold on to moisture, it's absolutely necessary to clarify your curls once every 3 weeks to remove dead skin, sweat, and chemicals. Setting a wash routine during the summer is a great way to prevent limp, lifeless curls and recharge your volume and shine. Clarifying products can be harsher than your gentler co-wash, so be sure to choose products free of harsh detergents, sulfates, and fragrances. Your hair will feel a little drier than usual after clarifying! We recommend following up with a few drops of our
organic, sulfate-free oil blend
and styling with a lightweight, conditioning product like our
whipped styling creme
.